Do you want to buy handmade quilts online?
If yes, you really need to know a few important things so that you can buy the right Quilt suiting your home needs and fitting your budget.
Are you confused between Quilt, Blanket & Duvet?
Quilts shouldn't be confused with blankets or duvet covers, even though sometimes they're spoken of intrinsically. A quilt isn't a blanket since blankets are woven. A quilt isn't a duvet, which may be a lightweight comforter that features a slipcover.
What is a Quilt?
A quilt is a unique style of manufacturing, combining artistic endeavours. Traditional Rajasthani quilts come in 3 layers. The top layer, the inner batted layer and the bottom, which is crafted by the various fabrics stitched together.
The top layer of a quilt is usually crafted from many different pieces of fabric stitched together into intricate patterns. The batting is a thin inner layer of wool or down, and the bottom is usually a solid piece of fabric. The quilter stitches through all three layers, creating the familiar quilted look of this ancient art form. Rajasthani quilts are slightly different.
You may find a lot of inexpensive quilts made with the sewing machines in this overflooded digital marketplace, but nothing beats hand block printing. It's a kind of style that's much worth to buy as compared to any hi-tech machine style and owning genuine Rajasthani Quilt is always a pleasure.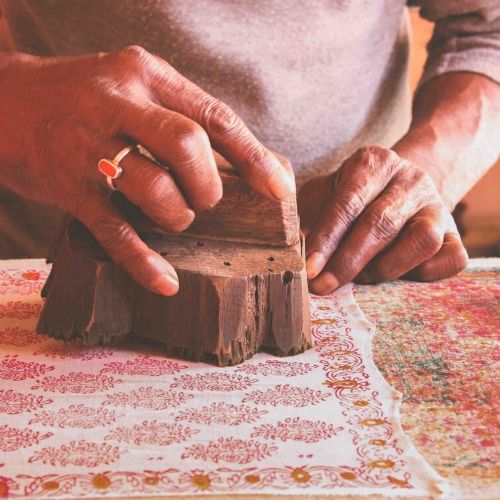 Things to know- Rajasthani hand block printing
Hand block printing is a speciality of Jaipur in Rajasthan, India.
Hand block printing is an ancient technique that requires the involvement of many craftspeople with different skills.
Hand block printing is done without the aid of mechanisation or computerisation, and this makes Rajasthani quilts special and unique.
Rajasthani hand-block printing is a women-dominated industry.
Why buy Rajasthani Quilts?
Skin-friendly for anybody.
Stylish and durable.
Rajasthani quilts are light-weight adding to their warm appeal.
These quilts are and look handmade, and in making them, the artisans make use of all their skills related to textile-printing, cotton carding, quilting and of course voile making.
The fabrics are printed and dyed using natural dyes.
The freshly harvested premium cotton is filled in Rajasthani quilts making them warmer and comfortable to use in chilly nights.
Rajasthani quilts bring a fresh, clean look to your bedroom, and the layers will add a decorative element of texture to the room.
Quilt Buying Guide
Whether a quilt is covering your bed, folded at the top of your bed, hanging over a quilt rack or simply stacked in your armoire with other quilts and blankets, it's a bedding to be used and treasured. Quilts offer luxurious comfort for sleeping, add visual warmth to an area, have a timeless appeal and charm and sometimes lend a vintage, historical feeling to your home and bedding. This quilt buying guide has been created to assist you in making informed choices as you buy that special Quilt for your home.
Throughout history, quilts are used for various reasons such as bedding, decoration, gifts and artistic expression. People have also made quilts to honour special occasions and to document social events. Probably the foremost favourite use of a quilt is as bedding.
Tips for Buying Quilt online
Below is the list of factors that need to be considered when you buy quilts online.
Size
Quilts are available in different formats such as super king size, double king size, single bed size, and more. So, first, find out which is your bed size and then look for a quilt which you can use with your bed. If you're looking for soft baby quilts, ensure that you don't compromise because of budget and buy one with the highest quality, keeping the comfort of your children in mind.
Material
What are the weather conditions in your locality? How severe is the winter? The warmth of the Quilt will determine the material you need to invest in. If you face moderately cold winters, the best options for you is to invest in synthetic materials, cotton blends, flannel, silk, and cotton. These further, prevent chances of skin rashes while offering cosy warmth.
Purpose
If you're looking for a summer bedding topper go for a lighter cotton quilt, for chilling winter and fall, a thicker quilt of flannel and silk is a good option.
Invest in a reputed brand
We recommend you invest in a reputed brand when it comes to buying a quilt. Only a good brand will use high-quality materials that won't wear or tear easily and last for years.
Quilt Care
Check out the manufacturer's washing and care instructions before you make a purchase. However, there is no need to wash a quilt frequently unless used on a children's bed. Though most of the quilts are machine-washable, you should definitely check whether your Quilt is safe for home washing or does it require professionally dry-clean. Read the care and maintenance instructions carefully.
Read Reviews and Feedbacks
Check out the recent reviews/feedback on the products you want to buy. If they're no reviews for the Quilt you like, reviews from other products of a similar category can also be considered. Also, check the star rating.
Check the expected delivery date
If there's an urgency of a quilt, in case, you are ordering baby quilt to gift your friend on a baby shower. Then we suggest you check the expected delivery date.
The actual Quilt can be slightly different from the picture
As every screen displays colour a bit differently and photos also depend on the lighting where they were taken, be a little bit flexible with colours. Consider pictures as a guide and expect a bit of variance. Please note, you should expect a slight variation only. If you are too concerned about the exact colour, you might need to contact the seller.
So, do your market research and find the right quilts for your home, depending upon your requirements and budget.
Are you looking for handmade quilts?
Rajasthani quilts from Natural quilts are made using environmentally friendly hand block printing and natural dyes. They are 100% free from harmful chemicals or processes, made by the craftspeople in their homes, not in a factory.  Check out our exciting range of Rajasthani quilts and get your favourite one at your doorstep.
If you have any questions or suggestions about this blog, please comment below.